Students plunge into the icy depths below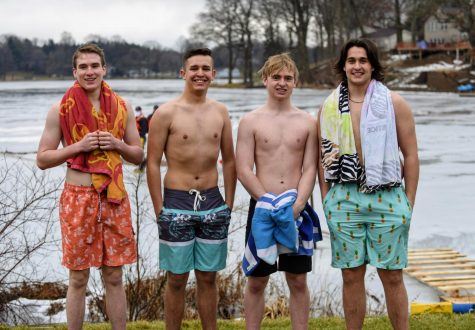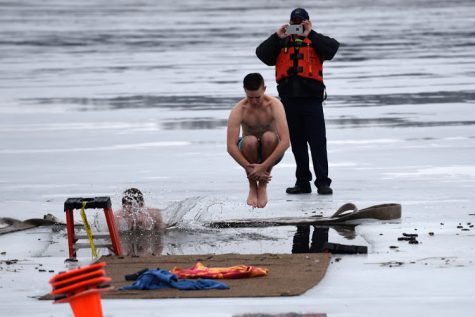 On February 27th, DECA hosted their 9th annual Polar Plunge.
Contrary to last year, jumpers were able to jump into Twin Lakes this year instead of doing the "fun run." This tradition started in 2012 and has been going strong ever since then. The proceeds go to the Don Beckett Memorial Scholarship which is through the Kent Fire Department.
This year there were 80 polar plungers and $4,410.00 was raised.
DECA advisor Mr. Pfeiffer says, "Roosevelt DECA started assisting the fire department after their first event in 2013. During the 2002-03 school year, RHS DECA students raised $30,000 to purchase ten AEDs for Roosevelt and the rest of the school system."
He continues with, "It is our honor and privilege to remember Don's legacy by assisting the Kent Fire Department with the organization and promotion of our annual Polar Plunge. As is always the case, our students deserve the credit of the success of the event; they do all of the work. We were especially excited that we were able to host a safe and successful in-person event!"
When jumping, participants did not have to wear a mask, but those around them did! There was a full ice sheet on the lake and it was freezing just like years in the past.
Jean, a janitor at TRHS, says that jumping gives her a rush like she could take on the world.
Maggie Oldham says, "Jumping into the water was really fun but scary… when I went into the water I couldn't feel my entire body and it felt like my body slowed down at a significant rate. It was a fun experience…"
Due to COVID, many events have been canceled, but the polar plunge still happened. The president of Roosevelt's DECA Chapter, Brandon Harvey, describes the challenges they had to overcome due to COVID.
He says, "With the polar plunge this year, we needed to figure out how to offer a fun experience while also ensuring safety of all those who attended. The DECA program worked very closely with the Portage County Director of Health in order to make sure we followed all of the COVID guidelines. With her help, we were able to provide the same fun and safe experience that the Polar Plunge has always had!"