A unique Homecoming
Homecoming events at RHS looked very different due to Covid-19.
First off, the changes made to the 2020 football season eliminated the possibility of there being a Homecoming football game. Once social distancing guidelines were released, the school had to majorly alter the Homecoming dance as well. 
Student Council and Booster Club eventually decided to have two events: one for seniors only, and one for the whole school. They planned to have a presentation of the Homecoming Court on Saturday afternoon, followed by a fully catered dinner for seniors at the school.
Stu-co and Boosters worked very hard to plan the events, but there were some bumps in the road. "Due to a late response from the health department regarding the dinner, we were only able to sell 20 tickets and therefore had to cancel the event," activities coordinator Mrs. Jurging explained.
Although the dinner was canceled, students could still join a live-streamed "virtual dance," on the night of October 17th. Roosevelt grad, Omara Kazadi-Abe, DJed the online event. The Homecoming Court presentation also went on as planned.
"Even though we didn't have homecoming, I was really happy I still got to walk on the court and see my friends and family there," said senior Cassie McCoy, who attended the presentation as a member of the court. "The ceremony went very well!" she added. 
The cancellation of the dinner and in-person dance was a bummer, but seniors were still able to enjoy Homecoming in a unique way. "Covid-19 certainly created some challenges for our annual Homecoming events," said Mrs. Jurging. "Overall, both student organizations worked to create a semblance of Homecoming during these unusual circumstances." 
Mrs. Jurging encourages students to meet with her or their class advisors to discuss any ideas they may have for future school events.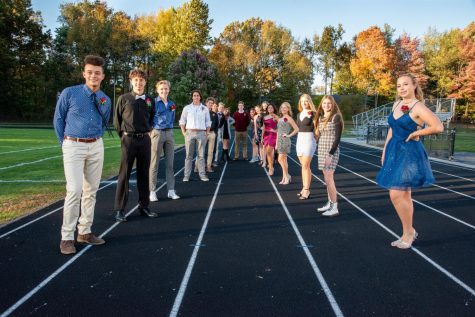 The 2020 Homecoming Court (photo by Dr. Roebke).