Rough Riders win first round in the playoffs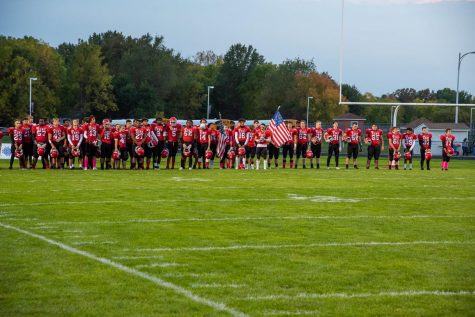 On October 9th, the final home game of the season commenced.
The Rough Riders swept the crowd off their feet, defeating University School 28 – 3. 
The intense game made fans excited and the band ready to entertain. Throughout the game, the band played classics like Seven Nation Army, Hawaii Five-O, and Victory March.
The football team was ready to run through the flag one final time, running in the mist, hearing the crowd go wild. This was a bittersweet moment, for everyone, players, parents, band kids, teachers, coaches, and administrators.
Mike Path was just glad we were even able to have football games. 
Both nights that the Riders got to play at home were gorgeous nights, sunny, a stunning sunset, and not too hot. 
This game hit the seniors hard. Football players and band seniors felt upset about how their season was coming to an end.
Drumline section leader and band senior Chris Griggy says, "I'm sad because I'll miss seeing all my friends in band and playing all the stand tunes with them."
What really strung a chord in Griggys heart was at the end, "I enjoyed being able to play rock and roll at the end. It made me happy that we could have that tradition of playing it at least once since a lot of things have changed this year." 
Tears were shed by band members and laughs will forever live in the members' hearts from the experiences they had.
When it came to football, the team was pumped that they won and were able to continue in the playoffs.
Senior football player Johnny Schwaben said, "With it being my final home game, it felt great to win as well as that win being Roosevelt's first playoff victory in seven years."
This win kept the team morale up, "It was a great team win and it especially meant a lot for us especially given this frustrating season we've received."
Schwaben also gives thanks to the families, band, and cheerleaders for being at every game and cheering them on. 
Although there is some separation between these programs, they were able to come together on Friday Nights and make Roosevelt proud. 
Keep staying strong Rough Rider Family! Let's stay positive and beat Hoban next week!