Controversial No Goal in Aurora
In late September, a potentially game-winning goal sparked a massive controversy in the local soccer community.
As the game began, the Riders kept possession of the ball and denied Aurora from scoring in the first half. With 18 minutes remaining, senior Jayden Reynolds hurled the ball into the goal box. Both teams scrambled for the ball.
A Greenman defender cleared the ball right to the feet of Rough Rider forward, junior Alex Horak. "The shot went off the post and in, and both teams stopped because they thought it went in," Horak stated. "The defenders were talking to me saying that it crossed the line and it definitely went in, and how they didn't know what the refs saw. They joked about how they weren't bribing the refs and that we got robbed."
After Horak's shot, Reynolds explained, "I ran across the line just to check if the ball did go in, and I saw that it hit the post and rolled in. I already stole a goal from Alex this year and a tap-in into the goal seemed unnecessary because it already went in." The Riders began to celebrate and ran to the bench. There was no signal from any referee. The center referee hesitated to blow his whistle to signal a goal but ultimately didn't. The assistant referee stood on the ten-yard line, not moving a muscle. The Greenmen then all put their heads down. Even the Aurora ball-boys had their hands on their heads, sulking.
The Aurora Greenmen questioned the goal but were then told to keep playing. Meanwhile, the Rough Riders were busy celebrating the "goal". The Greenmen saw the opportunity to go score, and the game continued. The Kent fans booed and screamed at the refs while the Aurora fans cheered. The Riders were in disbelief of the no-goal and tried to earn it back after halftime. The Greenmen remained on the defensive.
The game went on until a draw, leaving fans and players utterly confused about the credentials that some refs receive.
Decide for yourself- is it a goal? Vote below and tell us what you think.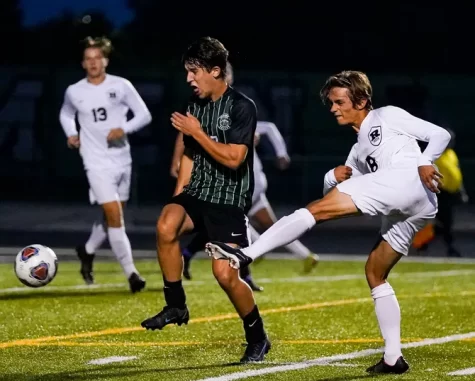 Sorry, there was an error loading this poll.