Summer isn't over yet!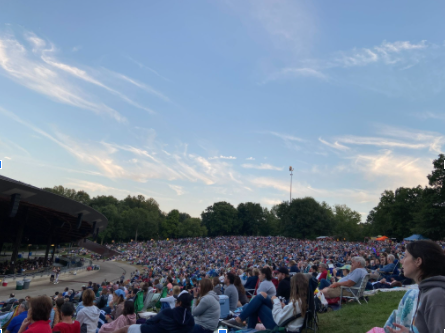 Looking to get outside before the cold months of winter? Blossom Music Center host's its last concert of the season on October 15th, 2021.
Blossom Music Center opened in 1968 for its first concert, featuring Judy Collins & Arlo Guthrie. Blossom is a fun summer tradition for many Ohioians, and its cheap lawn tickets allow families and friends to enjoy the music together. The popular summer stage has held around 1000 concerts since its opening night, and as the 53rd season comes to an end there are still many concerts to look forward to. 
Senior Evan Legnani attended the recent Cleveland Orchestra concert featuring John Williams' pieces at Blossom. These concerts were free to those under 18 this summer. When asked about the music collection Legnani stated, "Amazing music in a beautiful venue."  Beautiful venue indeed with 800 acres of park attached to it.
A country weekend is coming fast upon us! After many cancelled and rescheduled concerts the Brooks and Dunn Reboot tour comes to town on Friday, September 17. Continuing with a country theme, two days later on the 19th Thomas Rhett will play his fourth concert in his tour. 
Now the countdown begins with five concerts remaining of the 2021 season. If you're looking to relive happy memories from the 2000s,  the Jonas Brothers play September 22nd at seven o'clock. The famous boy band has tickets going for up to 1000 dollars, but I personally think the 20 dollar lawn seats are just as worth it. 
Senior Theoren Brown is attending the Jonas Brothers concert. When asked about how she feels about going she says, " Considering this is my first concert since the start of this whole pandemic, I'm totally excited. The fact that the tickets were only $20 was a huge bonus. And because you have to show your vaccine card to be let in, it makes me feel more at ease, knowing that I can attend safely."  
The restrictions for certain concerts this season require a negative test or covid vaccine as well as recommending a mask for all. 
Following the 2000s sensation, songwriter Jimmy Buffett, who wrote the classic 70s hit "Margaritaville" will be performing Saturday September 25th, at 8:00 pm.  NF, an American rapper is playing his rescheduled 2020 concert on Monday September 27th, featuring his Clouds album. The Dave Matthews Band appears at blossom a short two days later on the 29th. For the last concert of the season there will be a couple weeks between the Dave Matthews concert and it, but don't forget about it. Jason Aldean takes the stage Friday, October 15th at 7:30 for the closing concert. 
After the 2020 summer of cancelled events this summer was a breath of fresh air for many who love the environment and memories Blossom Music Center creates.